Post by emicardiff on Jan 8, 2017 14:20:29 GMT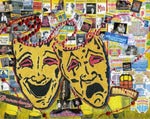 I'm hoping Let It Shine might be a reverse.....starts off really boring, but their future stages & possible live shows might actually turn out pretty good! Here's hoping, anyway.
I agree about The Voice- the pre-auditions and type of people is much higher, and it seems more 'real' in the sense of it's actually decent singers who either have a good audition or a bad one (with a stroke of luck thrown in). The judges too, have always been real performers/musicians.
Maybe Gary Barlow and co will improve once past the so far dull first round then!