Post by musicalmarge on Jun 2, 2019 9:43:02 GMT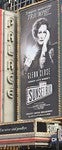 Ahhh yeah, course it did, I forgot that.
Know very little re that production other than Hal Prince directed it and (unusually as ALW always raves about Hal) ALW wasn't remotely happy with it. Was darker apparently. One of those rare oddities that hardly anyone saw it seems, would love to know more about it. 
No idea if the plan had been to go straight to Broadway at the time or if was always planned pre West End. Assume the former but it wasn't to be.
Not to misdirect the thread - but yes... the plan was for Washington DC to be a "Pre-Broadway Try out" - the Marquee was already up in NY (although I don't think the box office was open yet) They premiered the 7 minute "A Kiss is a Terrible Thing to waste" that ended up on one of the ALW anthology box sets on a NY radio station (which I remember sitting in my dorm room to record at the time - I think it was early 1996)
They were really blind sided by the critics ravaging the production - and the rumor at the time was that Hal Prince wasn't as focused on it as they expected/hoped for.  At one time I had a horrible audio boot leg of the production - that despite the awful quality of the recording I liked much better then the official London one that eventually opened.  I do remember ALW saying in one interview that in hindsight perhaps he was too abrupt with abandoning Hal and going with the London version (he does contradict himself a lot though when he revisits these things... it's why I was really frustrated that "UnMasked ends where it does.  I really want to read about everything from Aspects of Love up through Stephen Ward)
Interestingly when Prince was interviewed at "the other palace" there was no mention of Whistle.  Even more interesting that there's never been a full fledged revival or American production.  I've always loved the score and felt that there was a lot to that story that could really be interesting 
Not true - there was an American tour of the rewritten kenwright version (that was surprisingly beautiful) when it was staged at The Palace Theatre in the West End again, virtually all of the national papers agreed that this version was an improvement on Gale Edwards's Aldwych production.
A US tour began in Houston in September 2007, and ended in February 2008 in Norfolk, Virginia. The production was again directed and produced by Bill Kenwright, who had expressed his intention to take the show to Broadway. It starred Eric Kunze as The Man and Andrea Ross as Swallow. In each city, local children were added to the cast. Planned Los Angeles and San Francisco dates were cancelled.